The Sri Lanka Foundation International, this year hosted the biggest Sri Lankan cultural event held outside the country attracting a record number of cultural enthusiasts. The annual Sri Lanka Day Celebrations organized for the 10th year was held at the historic Paseo Colorado in Pasadena, California on Saturday, July 9, 2016.
Sri Lankan Day is a highly popular calendar event among the Sri Lankan – American population in California, as it offers the opportunity to experience Sri Lanka's rich cultural heritage, food and experience the hospitality, encompassed with traditional events during the entire day.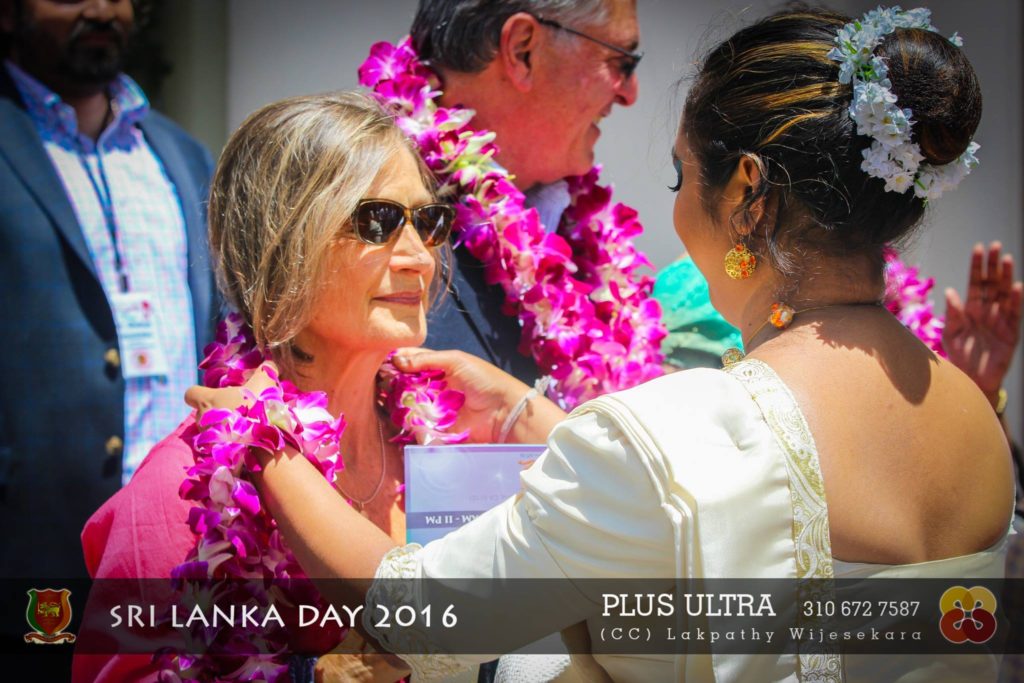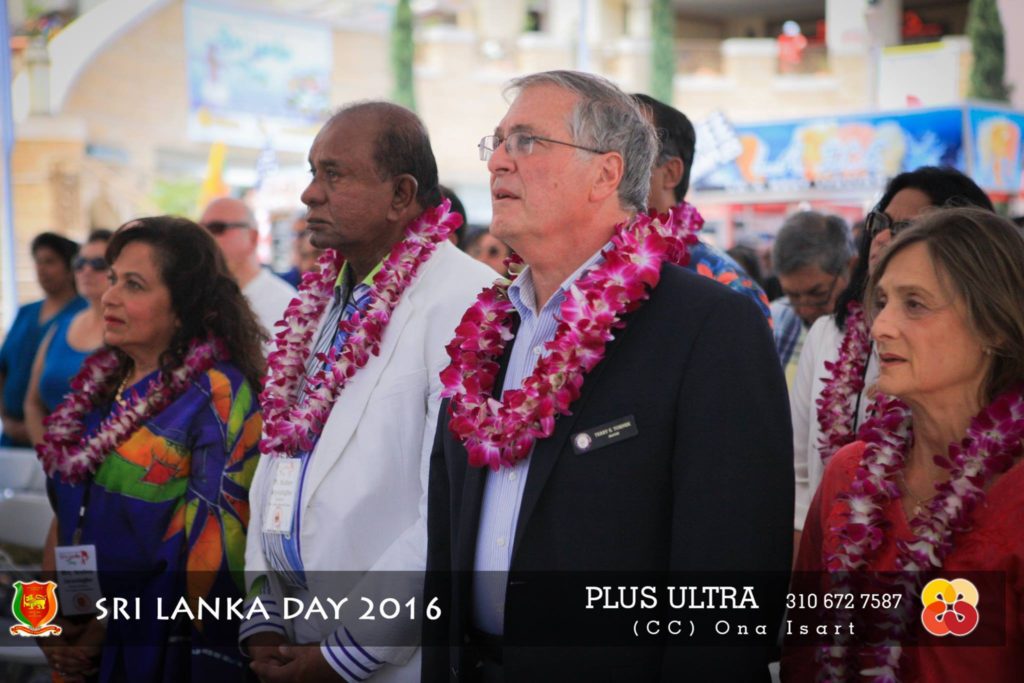 This year's celebrations commenced with a reception for the Special guests at the corner of Union Street and Garfield arranged by the Sri Lanka Foundation, followed by garlanding of guests at the main stage at Paseo Colorado. The National Anthem of Sri Lanka was sung by Sri Lankan – American children of Ramani Weerasinghe's Group followed by the US National Anthem sung by Takisha Perera.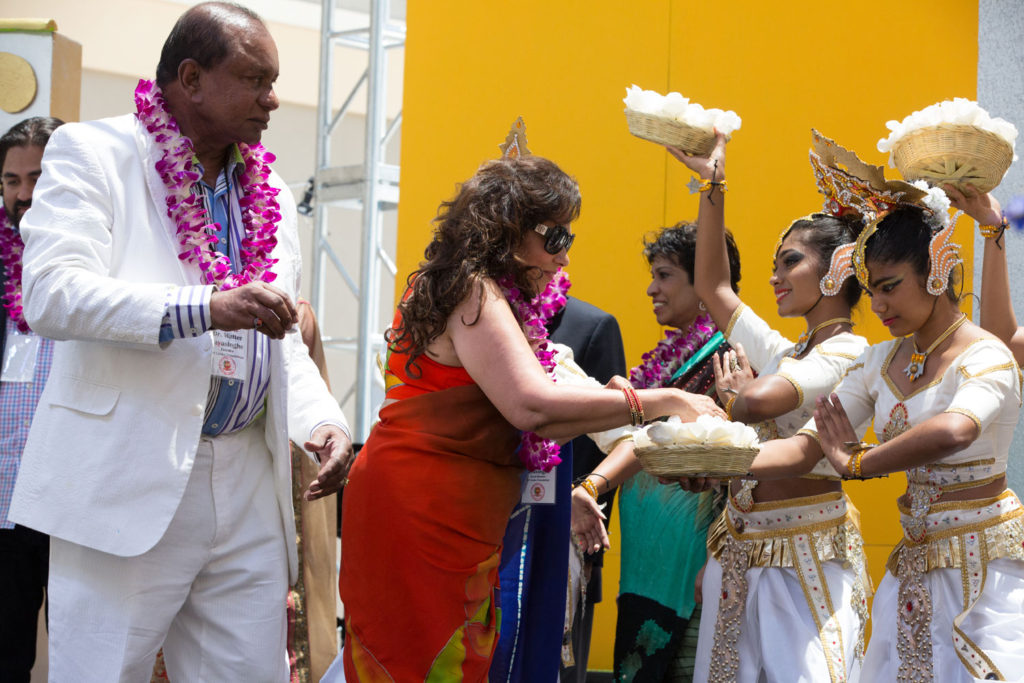 In keeping with Sri Lankan tradition, a welcome dance was performed by students of the Sri Lanka Foundation Performing Arts Center (PAC) while the traditional oil lamp was lit by Dr. Walter Jayasinghe, Founder / Patron of Sri Lanka Foundation, Mrs. Aeshea Jayasinghe, Board Member on behalf of the Board of Directors, Dr. Dishan Jayasinha, Mrs. Anarkali Akarsha, Mr. Terry Tornek, Mayor of Pasadena, and Ms. Swarna Gunaratne, Consul General for Sri Lanka to Los Angeles.
Dr. Walter Jayasinghe, Founder / Patron of Sri Lanka Foundation delivered the keynote address followed by Mr. Terry Tornek, Mayor of Pasadena, immediately proceeded by Dr. Dishan Jayasinha, President of Sri Lanka Foundation who welcomed the packed audience. Also in the lineup were Ms. Swarna Gunaratna, Consul General for Sri Lanka to Los Angeles, Ms. Senani Abeygoonasekera, President of Sri Lanka-America Association of Southern California and Congresswoman Loretta Sanchez, U.S. Representative for California's 46th Congressional District who delivered speeches.
The celebration kicked off at 10:00 am and went on till nightfall that ended at 11:00 pm. Over 200 performers participated in the spectacular cultural extravaganza which also rolled out an impressive Parade of Lanka, 'Perahera', the most awaited event.
The cultural show was made magnificent with dancers participating from several organizations and individuals. Some of them depicted the 'Gajaga Vannama' presented by Nethranjali Dance Troupe with seven dancers, 'Kaparinya' presented by Aruni Botheju and her team of nine dancers, a Vannam Fusion act by Thath Jith Dance Academy choreographed by Prasanna Yamasinghe and team of ten dancers, a sole Bharatha Natyam performance by Hiruni Ranawake, 'Karagam' dance performance presented by Nethmi Fernando and her team of eight dancers, Bollywood dance performance choreographed by Nithya Bamunuarachchi with her team of six dancers, and a modern hip-hop act by Liz Jayamaha and Ranji Warnakulasuriya.
Sri Lanka Foundation's PAC performed three dance sessions (21 dance acts) to represent Sri Lanka with its art and culture. The Drama session took its form on stage with age old songs from the 1940s to 1980s portraying our traditions during that era. Then came the Bollywood/Kolliwood dance session that showcased Indian Hindi songs interwoven with Tamil songs now known as Kolliwood. This act included musicals and dances from Hindi/Tamil movies, with modern fusion combining two cultures. And finally the last session came alive with Traditional, classical, and folk, songs and dance, these performances depicted the Harvest, 'Kulu', 'Raban', 'Thalam' and 'Pantheru' dances in their varied body movements and use of traditional instruments. All of these routines were directed and choreographed by renowned and internationally known instructors of the Sri Lanka Foundation's PAC – Chathuri Wickramarachchi and Lal Thilakarathna. These sessions were a big hit during the event and drew a large crowd of passionate fans.
The guests also enjoyed other acts such as the Sinhala movie song by Ananda Dissanayake, Sri Lankan drumming and flamenco guitar fusion by Lal Thilakarathna and Sudesh Managodage, Sinhala songs by Supun De Silva, Swarna Ito and Sri Lanka's famous Sinhala nightingale Latha Walpola's youngest son Chaminda and his wife Preethisha Walpola. The audience enjoyed 45 minutes of a spectacular modern musical production by Jehan Seresinhe and Rowena Kumaratunga. Young and talented Sri Lankan –American star Talin Silva fascinated the crowd with her singing and performance. Rowena brought her fantasy designs to the stage with some gorgeous outfits and took the runway with poise. The cast comprised of twenty five young talented girls and boys.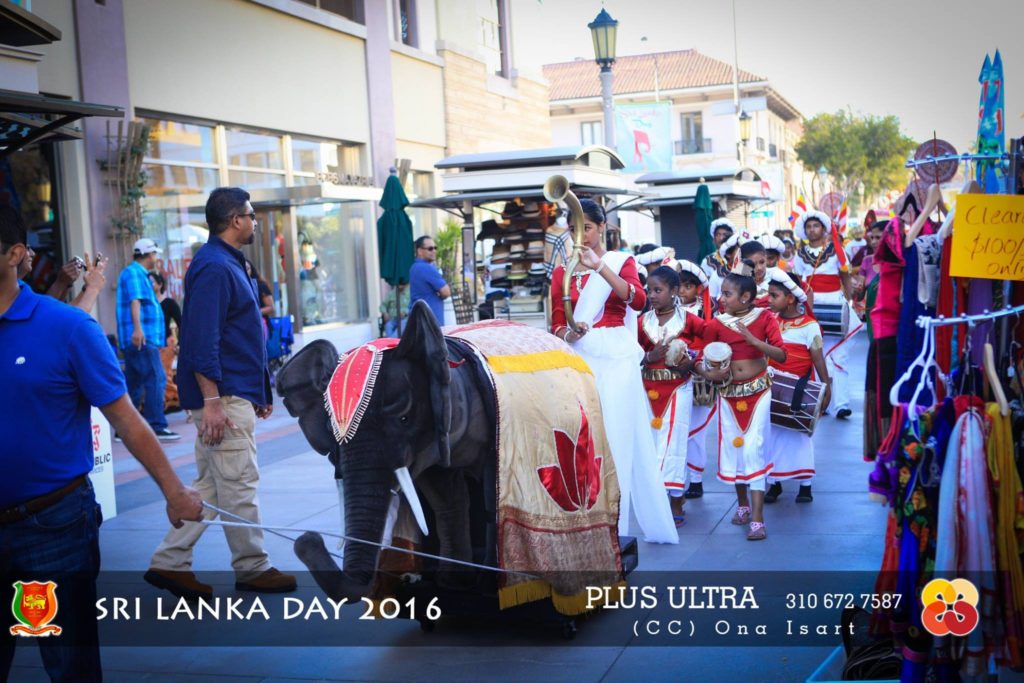 The colorful Pageant of Sri Lanka, featured two huge theater elephants, and one baby elephant all adorned in ornamental dress, drawn by volunteers clad in hand painted batik sarongs and shirts. There were the traditional up country and low country dancers and drummers, Peacock Dancers with their rhythmic dance, the Kawadi dancers with its lengthy ecstatic dance, which paraded through the street of Paseo Colorado. It was an unforgettable experience with vibrant colorful costumes and frenzied dancers, fascinating the invitees and the attendees alike.
The 'Baila Session' brought together young and old on their feet dancing to the rhythms of the night coupled with a session by "Big Band Theory". This session culminated at 11:00 pm with more cheers from the crowds for more songs for dancing.
The traditional fire dance of Sri Lanka performed by our very own Lal Tillekaratne of the PAC kept the audience spell bound. Thousands of guests were awe-struck by the magnificent performance which was presented on stage amidst roars, whistles and cheers. Needless to mention this is another 'First' by the SLF in this part of the world. Blowing big fire flames from traditional torches (pandama) into the night skies, twisted them, tossed them in the air and finally blew the flames by tossing it into his mouth, the bare-bodied dancer mesmerized his American fans in Pasadena, with all his stunts, which finally gave him a standing ovation. It was a BLAST!!!
The fun filled 'Kids Corner' at Garfield Street, with plenty of games, face painting, magic shows, arts and crafts, and bouncers, kept the kids awake and entertained till late night, allowing the parents to relax and enjoy the day. In attendance was the Pasadena Fire Department with a demonstration of the Fire Truck and Pasadena Police Department with safety tips to the kids.
The Sri Lanka Foundation in coordination with many other organizations such as Buddhist Temples, Sri Lanka- America Association of Southern California, The Taprobane, Sri Lanka Muslim Association, Nalanda College Old Boys Association of America, Sri Lankan Author Teera de Fonseka, travel agents and other vendors, kept the street of Paseo Colorado busy. The Temple booth drew large crowds of other nationals who showed a keen interest in Buddhism and its teachings.
Two return air tickets were also gifted by Qatar Airways, and two lucky Sri Lankans were the winners of the coveted tickets. Also need to mention that Upul's Travel Services who serves as the agent for Qatar Airways in Los Angeles, presented the air tickets.
The food booths which comprised of Hoppers by Anon Caterers, Kothu by Renuka Caterers, Finger Food by Ape Kade, Ceylon Tea by JK Tea, Sweet Meats by Romas Kitchen drew large lines for their takes. The Sri Lanka Consul General's Office served complimentary freshly brewed pure Ceylon tea to all those in attendance.
This was the Sri Lanka Day 2016 in a Nutshell. See you all next year for a bigger and better day for fun and frolic.
Sri Lanka Day 2016 Picture Gallery