Welcome to Sri Lanka Foundation
Our Mission
To rebuild hope and lives throughout Sri Lanka and its expatriate communities worldwide.
Our Vision
A world where Sri Lankans are prospering at an international level while being known to the world.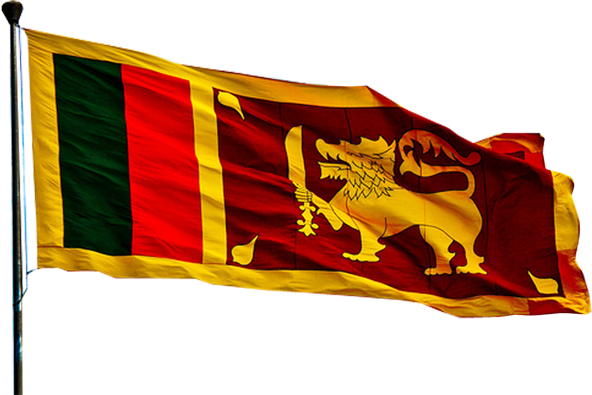 Sri Lanka Foundation is a 501 C (3) non-profit organization that was formed in June 2003 by Walter Jayasinghe, M.D., a well-known Sri Lankan-American physician in Los Angeles. With its head office in Los Angeles, California, the main focus of Sri Lanka Foundation is to promote Sri Lankan culture in the United States and globally.
Sri Lanka Foundation publishes "Expatriate Sri Lankan Good News", highlighting cultural and social events of the expatriate Sri Lankan community with circulation to more than ten thousand Sri Lankan households globally. The "Sri Lanka Day Expo" is an annual one-day event that showcases Sri Lankan musicians, dancers, food and businesses. The expo attracts nearly a hundred thousand Sri Lankans and Americans from around the world to experience Sri Lankan culture. The cultural parade called "PERAHERA" is a main attraction.
The "Sri Lanka Foundation Awards" is an event held in Los Angeles, California to render due recognition to deserving individuals of the Sri Lankan expatriate community in all fields of human discipline.
The Young Expatriate Sri Lankans (YES!) World Youth Conference is a first of its kind that's hosted by Sri Lanka Foundation for youth of Sri Lankan origin. The YES! World Youth Conference gives an opportunity for the youth to network, learn about Sri Lankan culture and to develop plans to help Sri Lanka.
The annual Miss Sri Lanka America beauty pageant and Fashion Show also hosted by Sri Lanka Foundation is another popular event for the Sri Lankan community to showcase Sri Lankan ethnic beauty to the American mainstream.
Every year, the community looks forward to the Cultural Concert hosted by Sri Lanka Foundation, which brings unique Sri Lankan performers such as Pradeep Ratnayake and the Channa Upuli dance troupe to enthrall an appreciative audience.
Our Founder
DR. WALTER JAYASINGHE, A Sri Lankan by birth and a US Citizen by naturalization, is the Founder of The Sri Lanka Foundation. Dr. Jayasinghe – very respectfully and is graciously known to everyone as DR. JAY is a visionary, entrepreneur and philanthropist. He breathes patriotism, dedication and love for his motherland SRI LANKA, which was formerly known as Ceylon, and to many as the 'Pearl of the Indian Ocean'. He is an enthusiastic, self motivated individual who always strives to achieve a very high standard in whatever he undertakes. With his proven leadership abilities, extensive experience and understanding, he offers the ability to motivate others in any sphere of one's interest. Dr. Jay is a firm believer that 'Success is a debt, which one owes back to the society'. With this belief he set out to start the Sri Lanka Foundation in Los Angeles, California in 2003, which today has come a long way and reached out to many Sri Lankan expatriates worldwide to showcase their own talents, and rewarding them with pride.
Learn More
Dr. Jay received his primary and secondary education at St. Peter's College, Bambalapitiya and Ananda College, Colombo. He then advanced to the University of Ceylon, and obtained his MBBS Degree. He held the position of President of the Medical Students Union at the University of Ceylon, Colombo, Sri Lanka. During that time he represented Sri Lanka at the International Students Conference in Dartford College, New Hampshire, and Quebec – Canada. He established 'The Medical Center Limited', in Dehiwela, Sri Lanka to serve the local community which operated as a 24 hour/7 days service center, which was a first in the Island.
After migrating to the United States in 1962 he completed his Rotating Internship at Kern County General Hospital with emphasis in Obstetrics/Gynecology and served his residency at the California Hospital Medical Center in 1977. Dr. Jay then went on to complete his Masters in Public Health at the University of California, Los Angeles (UCLA). He was also Project Director of the International Student Center and Foreign Students' Counselor during his tenure at UCLA. In 1965 Dr. Jay was also granted Honorary Citizenship by then Mayor of Los Angeles Hon. Samuel WM Yorty, thus entitling him to all rights and honors of the City of Los Angeles.
Whilst attending his residency in 1977, Dr. Jay pioneered a small part-time General Practice clinic in the Westlake District of Los Angeles. Here, with the assistance of two part-time fellow residents, they commenced compassionate patient care with ten patients per day and two deliveries per month. Since then Dr. Jay has delivered over 13,500 babies and has cared for more than 800,000 patients in 7 locations, all of which are situated in the minority, and largely underprivileged and predominantly Hispanic areas. Dr. Jay also own up several real estates in and around the Wilshire/Westlake, South Los Angeles and Orange County areas. He takes pride to be the first ever Sri Lankan to hoist the Sri Lankan Flag at the pinnacle of his buildings, alongside the US Flag.
While serving in his private practice he also contributed in small and large ways to the community. Below are some of the offerings under his belt :
*Operated a Free Clinic every Saturday for many years, to the homeless population around the Downtown LA area. All outpatient medical services and medications were provided free to the patients.
*Executed duties as Medical Coordinator, Health Systems Inc, Los Angeles who ran the "Physicians On-Call" program in Century City in 1972.
*Served as Assistant Police Surgeon in the city of Pasadena, California and lead the Emergency Ambulance Program, a first of its kind, prior to Paramedics; 1972-1975.
*Received an award for 'Entrepreneur of the year' by Merrill Lynch, Ernst & Young Inc. – 1992 Appointed by Councilwoman Gloria Molina as a member of the Westlake Task Force with an avowed intention of making permanent improvements to the Westlake/Alvarado Area, Los Angeles, California – 1991.
*Awarded Certificate of Recognition for LACOE Grantee Head Start Policy Council – 1991-1992 Appointed by Councilman Mike Hernandez to the Project Area Committee of Community Re-development Agency (CRA) in 1994 and continues to be an active member – 1994 to present.
*Received Honorary Award for assisting in the growth of Camara de Comercio Chamber of Commerce El Salvador, California Chapter – 1995 Active member of the Rotary Club of Los Angeles V.
*Assisted and supported Revitalizing the Downtown Project headed by then Governor Jerry Brown, who is presently holding the post of State Governor.
*President/CEO of Walter Jayasinghe MD Inc., dba Los Angeles Medical Center, & Integrative Medical Center.
Dr. Jay is the Founder of Care 1st Health Plan, presently serving more than 500,000 patients. This 1 Billion company has branches in Los Angeles, & San Diego Counties – California, Arizona and Texas. He presently serves as Chairman of the Board of Directors at Care 1st Health Plan.
In 1995 he was involved in establishing a Health Management Organization (HMO) called AMVI Care in Orange County. In 2007 Dr. Jay with two of his colleagues, also acquired Vantage Medical Group Inc and Primary Provider Management Company, that manages approximately 350,000 patients.
After being very successful in the Obstetric/Gynecology field for well over 35 years, he decided to venture on a whole new project. His passion for beauty and perfection diverted his attention and he took into the field of plastic and laser surgery. Perfectly understanding the role of what one's outside appearance plays in one's inner well being, Dr Jay commenced an Outpatient Surgery Center and Laser Surgery Clinic where he treats many folks with cosmetic needs to achieve what they perceive to be a more desirable look. And….. believe it or not, Dr. Jay has proved it again!!!
Here comes the most exhilarating element to all of the above. One evening in 2003 whilst Dr. Jay was enjoying the Gloden Globes Award ceremony, he had a moment of bittersweet realization. He knew and had heard of exceptional Sri Lankan Expatriates around the world, who have excelled in various fields of specialties. However, there was no platform anywhere in the world to recognize these shining stars. He sought after his thoughts, and with a lot of belief in himself he set out to pursue another dream of his. Thus was born the Sri Lanka Foundation Awards Ceremony. From that year to date Dr. Jay never looked back, he creates a full house showpiece that brings Exceptional Sri Lankan Expatriates to celebrate their achievements once a year.
Dr. Jay has always been a patron of arts and culture, especially when it comes to the classic rich culture of Sri Lanka. In 2006 with great honor and enthusiasm, the first ever 'Sri Lanka Day' was produced, and there unfurled another feather in his cap. He created a stage at the very famous 'Santa Monica Promenade', and gave the opportunity to all upcoming Sri Lankan artists living in the US to showcase their talent, and new Sri Lankan entrepreneurs to display their products in various forms of business. This free event brings together generations of Sri Lankans from all walks of life, regardless of their religion, race, and cultures may they be the old or young, seniors, adults or kids. They all come together under one flag in unison to perform, produce, have fun, taste the authentic Sri Lankan food, mingle with fellow brothers and sisters and leave at sunset with beloved memories. This event draws about 10,000 spectators each year, and today The Sri Lanka Foundation is in the forefront of promoting Sri Lanka culture in the US, and also inspiring the younger generations of their cultural values.
Dr Jay's passion for his motherland did not stop at the Sri Lanka Foundation. Some of his notable achievements are:
Founder-President of the Institute of Buddha Dhamma Studies (A non-profit organization in the State of California).
Founder Trustee of the Los Angeles Buddhist Vihara of Pasadena and Sri Rathana Buddhist Center in Anaheim.
Very active member of the North America Alumni of his Alma Maters – Ananda College and St. Peter's College, Colombo.
In October 2003 was awarded the Col. Henry Steel Olcott Lifetime Achievement Award for his accomplishments and contributions to his motherland, community and his Alma Mater.
Dr. Walter Jayasinghe, will not stop at this, he still continues and endeavors to create various new events to bring Sri Lanka expatriates together. He likes to see himself as a bridge builder who builds bridges between people, between races, between cultures, trying to find common ground for every individual; He will leave no stone unturned until he achieves this to the fullest, someday.
Our Crest
The blue water lily ('nil manel'), our national flower, with its unforgettable blue-violet color, allows us to be born again globally as Sri Lankans.
The Orange, Green, Yellow, and Red colors of our flag signify the various ethnicities coming together even in diversity at the epicenter of the water lily.
The sharing of our culture, our religious beliefs. Our knowledge, disparate though they may be, is one of our proudest achievements.
Sri Lanka Foundation acts as the vehicle to inspire and make us achieve they very goals as symbolized in the crest.
The eternal flame of the 'pahana' lamp is a shining reminder to us that it is every Sri Lankan's duty to inspire and achieve.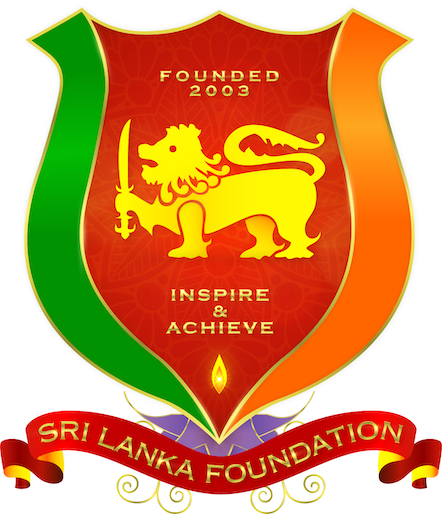 Who's Who & What's What at the Foundation 
Dr. Walter Jayasinghe
Founder / Chairman of the Board
Dr. Dishan Jayasinha
President / CEO
Aeshea Jayasinghe 
Co-Founder

 
Shirani Stanislaus
Chief Impact Officer / Chief Estates Officer
Harrison Luoma
Chief Administrative Officer
Achala Weerasinghe
Senior Production Director / APA Director 
Keshini Wijegoonerathna
Director of Fundraising
Umendra Kahadawaarachchi
Dance Instructor Academy of Performing Arts
Nirosha Wijegunasekare
External Lecturer Academy of Performing Arts
Akila Palipana
External Lecturer Academy of Performing Arts
We'll quickly go over what each of our pages offer. Let's start with the Home page!
Learn more about us! Read about our Mission & Vision, Our Founder and Our Crest.
Visit our News page and browse our Categories to stay up to date with stories. happening all over the world!
Never miss any of our SLF Events or events shared by other communities!
Re-live all of our SLF moments! Click any of our most recent albums or view them all.
Search our business listings & learn all about the Sri Lankan Embassies and Consulates around the world.
Our award presentation is one of our most popular events where we honor the works of exemplary individuals.
Don't miss out on our next Sri Lanka Day Festival! Click Let's Get Started to learn more.
Do you have a question for us? Contact us today!