Map of Sri Lanka, showing the location of Anuradhapura, Polonnaruwa, and Badulla districts, in the endemic area, and Hambantota district, in the non-endemic area.
Need your help to SAVE LIVES!!!
We are requesting the following equipment for COVID-19 treatment units at DGH Gampaha since we are running out of resources due to rapidly expanding patient load. Your kind contribution in this regard is highly appreciated. 
See attached letter for details. 
ALL FUNDS WILL BE USED ONLY TO PURCHASE MEDICAL EQUIPMENT!!!!! 
For more details:
Dushyantha T. Jayaweera MD, MRCOG (UK), FACP 
Professor of Medicine, 
Miller School of Medicine, 
1501 NW 10th Avenue, Miami, Suit 811, 
FL 33136 
Phone: 305-243-5157 
Cell: 786-300-6747 
djayawee@med.miami.edu 
Demographic characteristics of CKDu cases in the endemic area, controls from the endemic area and controls from the non-endemic area
According to the proven scientific researches CKDu is directly related to the geographical distribution of patients with CKDu and ground water hardness in Sri Lanka. According to the Ground water hardness data- with the courtesy of Water Resources Board of Sri Lanka, a highly statistically significant positive correlation (p < 0.008) has already been revealed between the occurrence of CKDu in Sri Lanka and hard water consumption. 96% of the CKDu patients had consumed hard or very hard water for at least five years, from wells that receive their supply from shallow aquifers. Apart from that, the authors have made the following observations related to CKDu and the hardness of the drinking water

• Certain shallow wells (2–5 m), which were previously been used for drinking purposes are now abandoned due to high hardness and bad taste.
• There are a few natural springs located in the CKDu endemic area where water is not hard. People who consume water from these sources have been determined to be free from the disease.
Drinking water is a major pathway for entry of inorganic arsenic into the human body. The arsenic content in 99% of water samples was below the WHO reference value of 10 μg/l. However, it has recently been suggested that the concentration of arsenic in drinking water should be no more than 5 μg/l. CKDu occurs in areas where groundwater is the main source of drinking water. Groundwater in this region is known to have a high content of fluoride and calcium. People living in the region for generations have used groundwater for drinking without ill effects. However, hardness of water, the high fluoride content, poor access to drinking water and inadequate intake of water in a warm climate may influence the body burden and/or the excretion of heavy metals and oxidative damage to the kidneys caused by heavy metals. This study describes chronic kidney disease of uncertain aetiology (CKDu), which cannot be attributed to diabetes, hypertension or other known aetiologies, that has emerged in the North Central region of Sri Lanka.
Results show chronic exposure of people in the endemic area to low levels of cadmium through the food chain and also to pesticides. They may also be exposed to lead and arsenic through the food chain. Urine concentrations of cadmium and arsenic in individuals with CKDu were at levels known to cause kidney damage.
Thus, according to the research, it is proved that if they stopped using dangerous pesticides and insecticides and use the clean drinking water or the purified water the, population will be healthier and the generations can be saved from this fatal disease.
Why this cause needs your support
Solutions that make a difference
— To install a water filter which is a three-part unit that will purify the water from all chemicals to supply clean drinking water to all residents in these areas.
— The unit will be secured around with fully enclosed walls and roof.
— This filter will supply water to 4,500 to 10,000 people per day, the residents of these villages.
— It will carry a warranty to support 10 years of service.
— Kidney patients are currently buying bottled water. Remaining population and the money of the patients buying bottled water bottles can be saved if they are given purified water.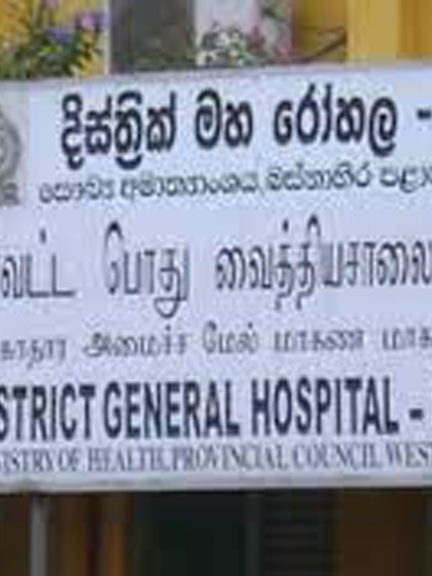 Why helping this cause matters:
— Medical supplies will be used to help save COVID patients lives.
There is always a way to give a helping hand