Dreaming of a sunny getaway? Jasmine Hemsley of Hemsley + Hemsley shares her diary from a recent trip to Sri Lanka, whilst her partner Nick Hopper has captured the sights, sounds and the glorious food through his beautiful photographs.
Ceylon Tea Trails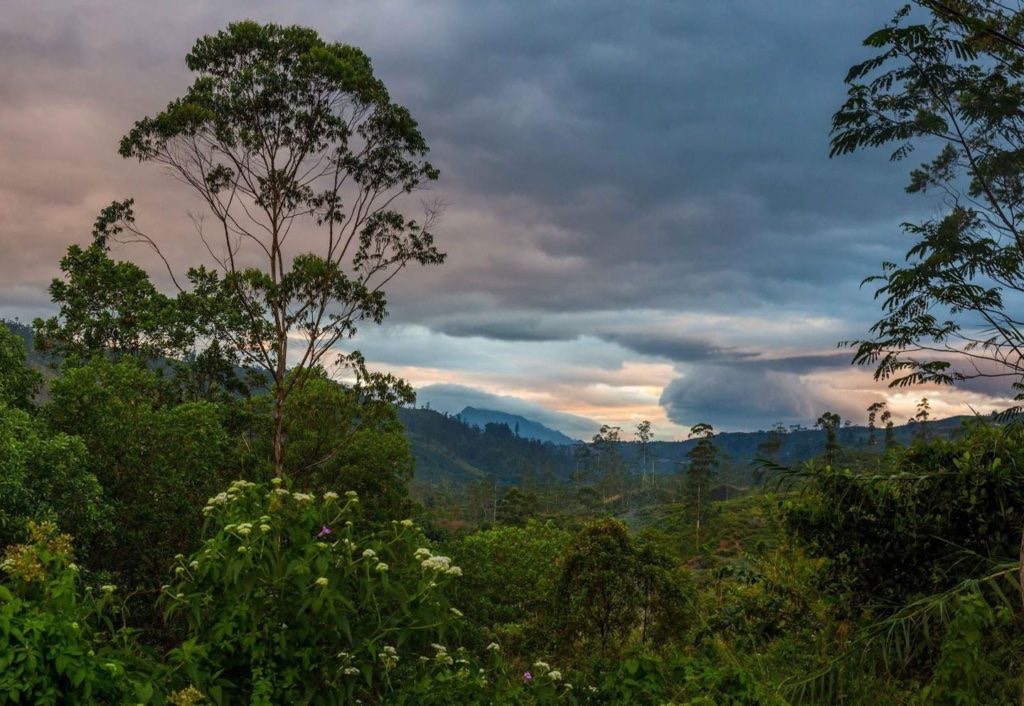 We touch down in Columbo, Sri Lanka, and head straight up to the tea mountains. It's a five-hour drive so after a roadside canteen curry feast we make a pitstop halfway to stock up on a variety of "banana-flavoured" bananas – the tinier the tastier!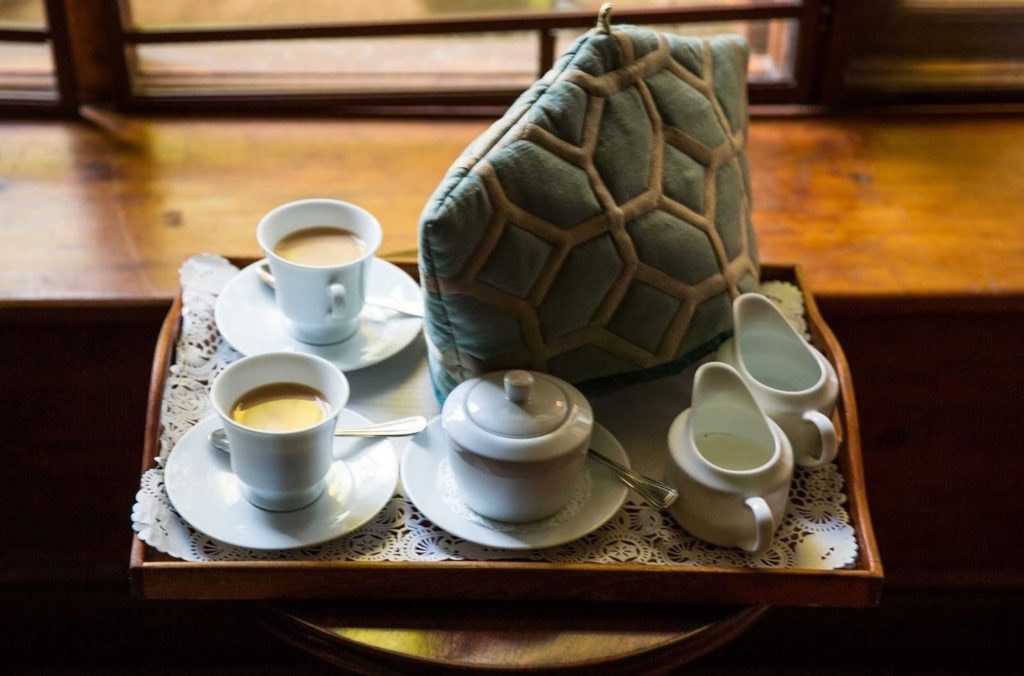 Know as "The Pearl of the Indian Ocean", Sri Lanka has a legendary reputation for its natural beauty. The sun sets as we reach the hills of the Bogawantalawa region in south-central Sri Lanka, where the créme de la créme of Ceylon tea plants flourish.
Bed Tea. What better way for an English girl to start the day than with that wonderful institution. A fresh-from-the-mountain brew served by your butler as part of a gentle wake-up call. Lie back and imagine
Downton Abbey
– a la Sri Lanka – and ask for a bath if you like!
Breakfast on the veranda and cocktails in the library. At sundown the chef talks you through his tantalising four-course menu of contemporary Western cuisine or traditional Sri Lankan fare, with homegrown vegetables and herbs from the surrounding estate.
Exploring Tientsin – named after the Chinese village where the first tea tree seeds came from. Built in 1888, it's one of five unique bungalows that have been lovingly restored to offer the height of colonial-style luxury, making Ceylon Tea Trails the world's first tea bungalow resort.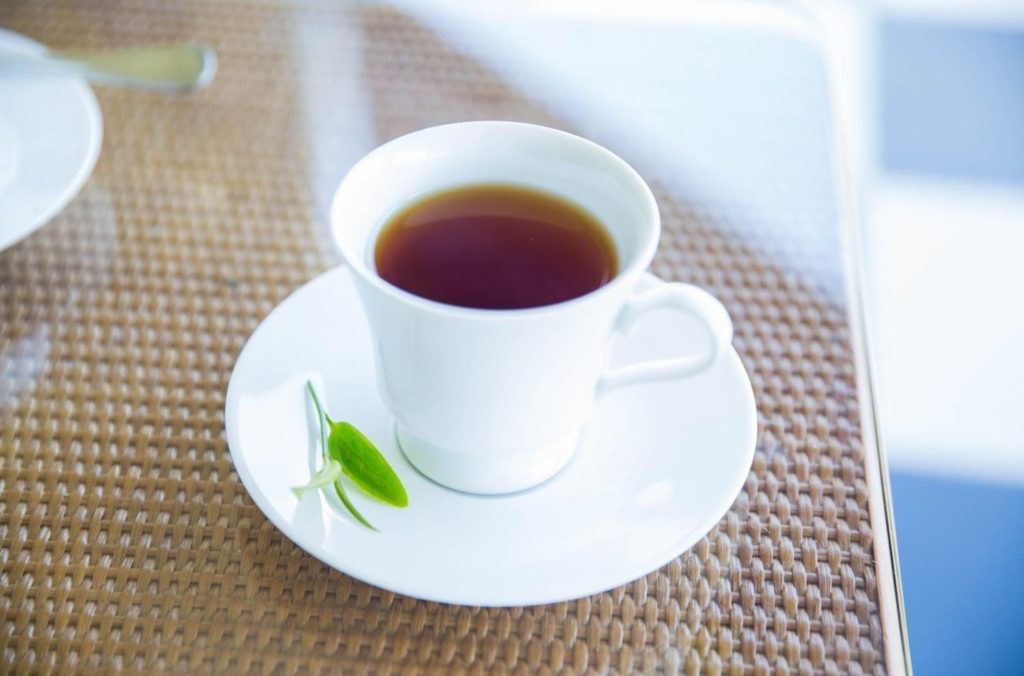 Time for tea. The tea menu is extensive, the flavours exquisite and out here serving tea is a science. Loose leaf and brewed at the perfect temperature for the perfect amount of time. Serve in fine bone china… sip, relax, repeat.
4,600 feet above sea level – panoramic views of one of the oldest Sri Lankan tea plantations. Refreshed by a cuppa, refreshed by a dip, refreshed by the view… #refreshed!
Tea pickers in action. From sunrise the vivid green landscape comes alive with their bright pops of colour. Trek the plantations or take a mountain bike and join the tea pickers rhythmically picking only the tips – "two leaves and one bud" to be exact.
Feels like holiday now! Birdsong fills the surrounding gardens. Still planted in the classic English style of the colonial planters' wives, it contrasts beautifully with the tea-carpeted hillsides and misty valleys.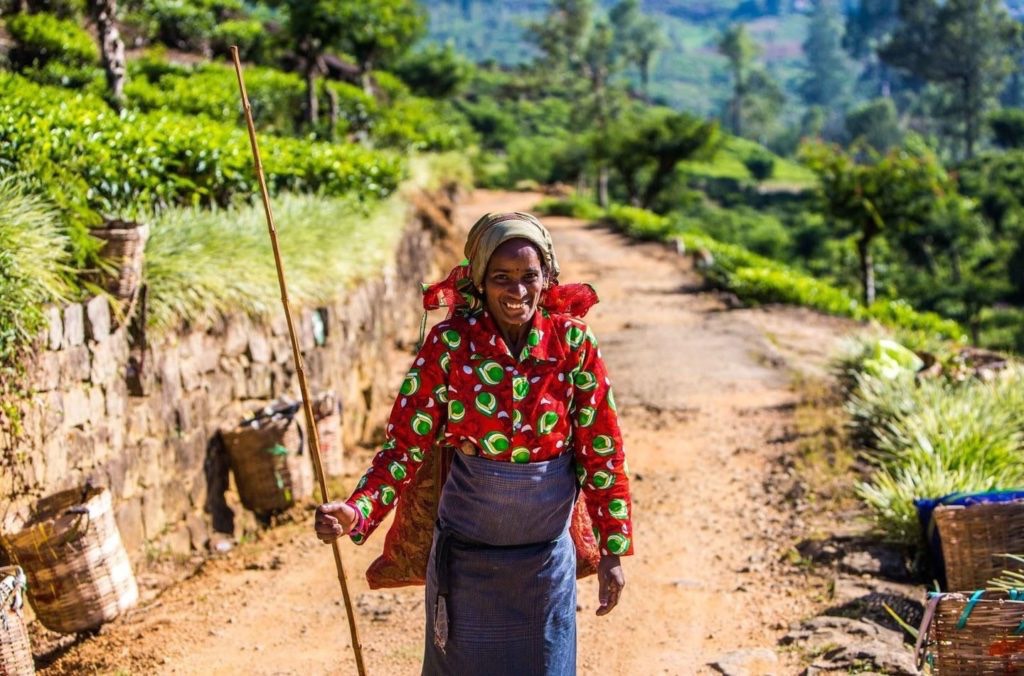 Sharing a smile. A tea picker carries her precious cargo to the factory where it will be sorted and dried to make everyone's favourite brew. The locals were friendly and welcoming – typical of our whole trip to Sri Lanka.
Tri Lanka
Our next destination was Tri (rhymes with "tree"), Sri Lanka's first truly contemporary, luxury eco hotel with a focus on wellbeing. The top of the central water tower, clad in cinnamon bark, offers a spectacular 360-degree view of the site which swirls out in a Fibonacci-style spiral.
Lake Koggala Room with a view. Lake Koggala, Sri Lanka's largest natural lake, stretches out as far as the eye can see. Our villa comes with its own solar-powered hot water and rainwater plunge pool where you can kick back, enjoy nature and breathe in the cinnamon-scented air.
Perfectly private. There are eight unique suites along the water's edge which blend seamlessly into the landscape with their living walls, green roofs and recycled wood.
Food that's a feast for the eyes. A fusion of traditional dishes and five-star dining means a fairytale menu or a fabulous curry night, always with an emphasis on fresh local produce.
To infinity and beyond! Swim laps in the chlorine-free pool which overlooks the lake – stunning at every time of day.
Get out on the lake with a kayak or boat. At one point we thought we'd run into the infamous madam crocodile who stalks the waters, but it was just a large monitor lizard having fun with us.
Off to visit Cinnamon Island, where four generations of Sri Lankans have lived for over 100 years making the most exquisite organic cinnamon the same slow way, for maximum flavour and medicinal qualities.
Cinnamon is one of my favourite spices in both sweet and savoury dishes, so I enjoyed grinding my own. FYI, cinnamon oil is great on mosquito bites and keeps the rest of the bloodthirsty gang away – worth more than gold in Nick's eyes!
The treetop yoga shala where Tri's co-founder Lara Baumann teaches Quantum Yoga. Here she is at eight months pregnant helping me with a handstand before demonstrating a perfect Scorpion pose.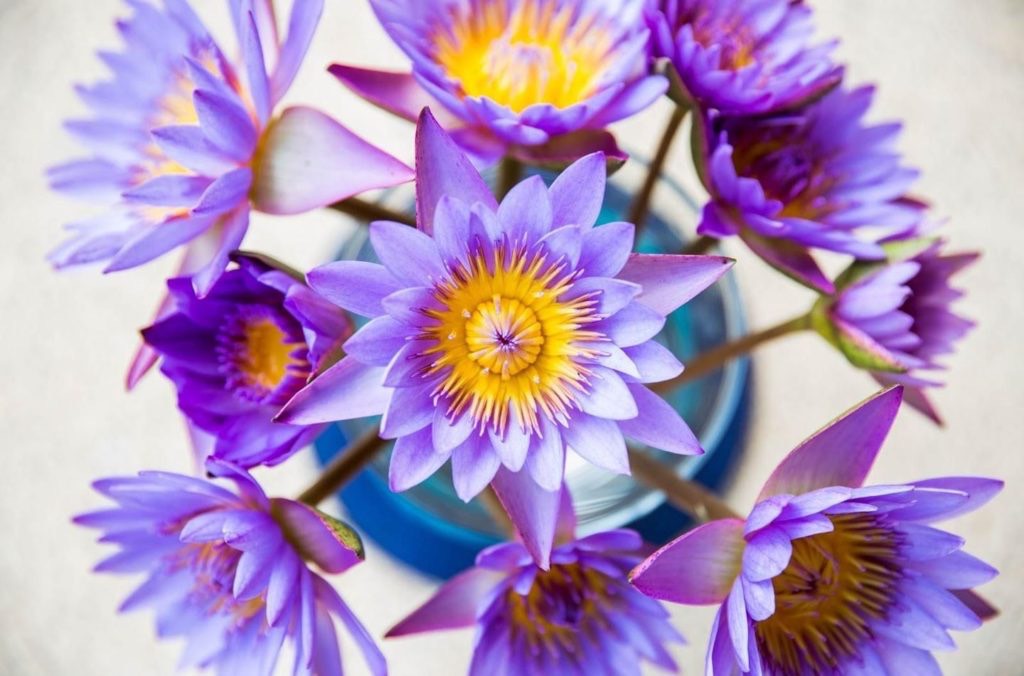 The wellness philosophy continues with the Ayurvedic spa, nestled in the bamboo grove. Lotus flowers scent the air along with essential oils from the natural beauty products.
Cape Weligama
Cape Weligama. Our final destination, perched on a spectacular cliff-top just south of Galle Fort on Sri Lanka's south coast. Overlooking the beautiful bay of Weligama, famed for whale-watching – there's even a surf break on the doorstep.
Clifftop breakfast. Gotu kola green juice (a superfood herb which looks like a bit like watercress) and fresh papaya, followed by curry Sri Lankan-style or a cooked breakfast English-style. Curry please!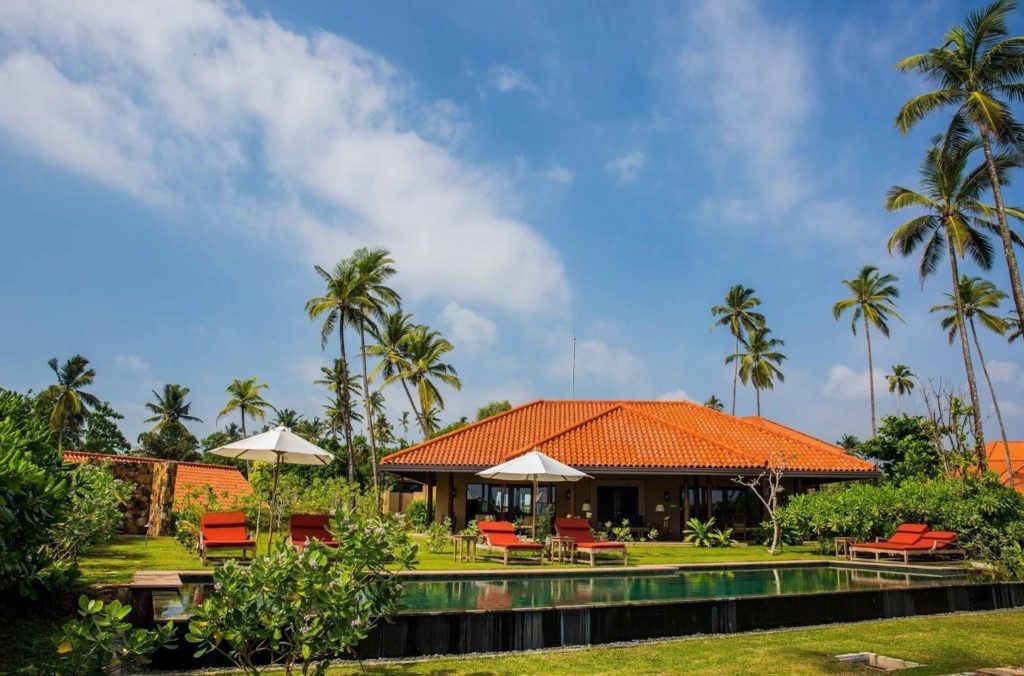 Home suite home. Our incredible villa had sea views and even came with our own butler, ultimate luxury. If you ever visit ask for Namal – he's amazing.
Big enough to have a boogie. It's difficult to drag yourself away from the villa with its great sound system, huge walk-in wardrobe and the bathroom where you can lose hours – it even has its own sauna!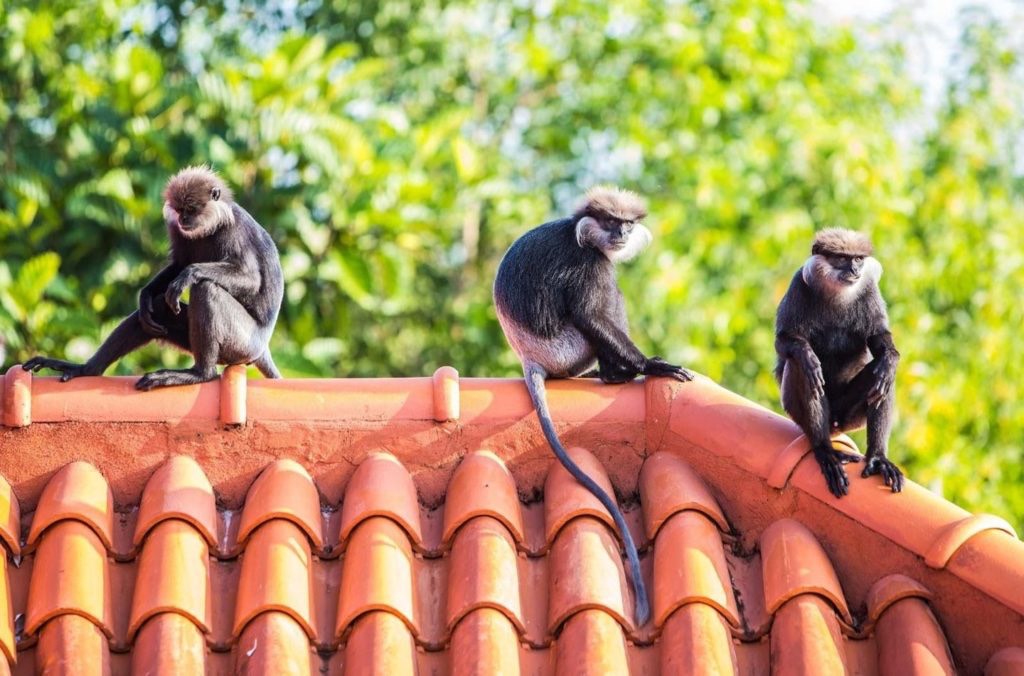 Monkey business. Some of the slightly more rowdy guests at the resort who enjoy the morning sun as much as we do.
Lessons in food. Chef's signature curry powder blends 24 different spices and in Sri Lankan cuisine every meal should have: fresh, salty, sweet, sour, chilli and fried flavours. Fish curry recipe coming soon…
Seeni sambol (sweet onion relish), creamy dahl, baked fish and chicken curry – fresh ingredients, locally sourced. Chef was very accommodating and even offered to go off-menu so he could show off his grandmother's curry.
Weligama beach, famous for its endless beach breaks and easygoing surf vibe. Perfect for beginners to intermediates, we surf the mornings before refreshing with a King coconut from the beach shack, then head back to the hotel for a well-earned breakfast.
Stunning sunsets at Weligama beach make it the perfect place for a sundowner. Watch the colourful fishing boats come in with their catch of the day.
Feeling so great at the end of the holiday I could almost walk on water! At the Crescent Moon infinity pool attempting to recreate a shot we'd seen in a local fashion magazine.