The Queen's Baton will be taken across 72 countries ahead of the 22nd Commonwealth Games that will begin in Birmingham, England on the 28th of July 2022.
The baton is scheduled to be brought to Sri Lanka on the 3rd of January 2022 with an event held at Independence Square in Colombo.
It will be taken across several parts of Sri Lanka including Kandy until the 6th of January 2022.
Suresh Subramaniam, President of the National Olympic Committee said, for individual events, they have decided to only select athletes who can win. He said there are some team sports in which they are unable to win medals despite gaining a qualification and they assume that they will be allowed to compete because they have qualified. The final decision will be taken on the 31st of January. Subramaniam noted that it's unfortunate to the teams that are selected only a month before the event and he decided that this can't continue, so the pools will be selected six months earlier, as well as athletes, will be drafted into the team from those pools.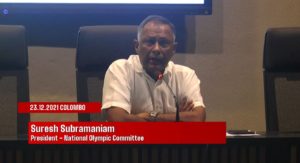 For more information go to: