By Mariam Digges
In 2013, pancakes and crepes were two of most searched recipes on Google. Fast-forward to 2016 and there's a new trend battering up around the country.
Meet the hopper: Sri Lanka's street food answer to the pancake. Indian food royalty Madhur Jaffrey described it as the love child of a crepe and a crumpet. They're crisp and golden on the edges, light and spongey in the centre, and have a slightly sour flavour thanks to the fermented rice flour and coconut milk in their batter. On the streets of Sri Lanka, hoppers are both cooked up plain or with an egg in them, and then used to mop up everything from okra curries, to buffalo curd along the coast, to feisty sambols.
Britons are no stranger to hoppers, with many markets in London now offering the coconut batter-based street food, while musician Nick Cave has been known to wolf down a few at Brighton's Moonstone restaurant. And it's a similar story in Melbourne's Glen Waverley.
"Hoppers are very popular here because there is a huge population of Sri Lankans in Melbourne, and the population is growing over Australia," tells Gerard V of Elephant Corridor in Glen Waverley. According to Gerard, no matter where in the world you are, you should eat a hopper with your fingers, like you would a roti or naan.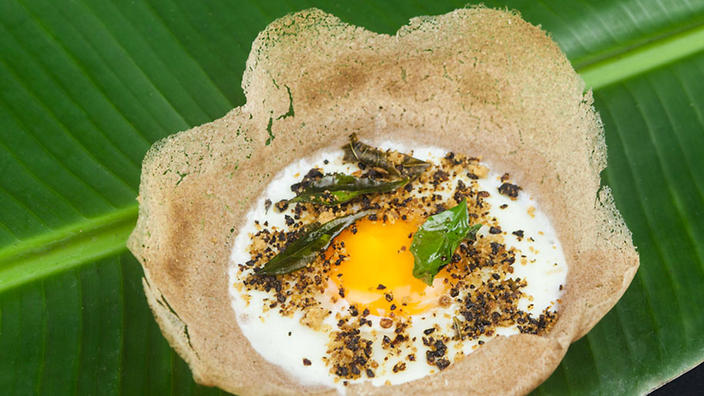 While they've been around in Melbourne's suburban outskirts for some time, the hopper has only recently made the leap into more mainstream dining in Sydney – it's on the menu at restaurants such as Indu in the CBD and, throughout July, at a pop-up at Chippendale's Brickfields.
If you feel like making your own, Mrs Amarasakara's hoppers take about six hours, so chef Peter Kuruvita recommends preparing it in the morning, perhaps before work, and leaving it in a warm place so it is ready in the evening.
"It's the most perfect breakfast in the world," says SBS Seasonal Cook columnist and ex Berta Sydney chef O Tama Carey. "For years, the Australian government had said not to travel to Sri Lanka. But there's a lot more change going on over there at the moment and I think they're getting a lot more tourism. So I think people are becoming more aware of it [the hopper]."
Carey's first experience of the hopper was during a trip to the country as a teenager with her Sri Lankan-born mother. Ever since, she's been on a quest to perfect her batter.
"Whenever I go there, I'm always on the hunt for people making hoppers and harassing them for their recipes," she says.
For her hoppers, Carey ferments yeast over two days to develop their signature, slightly tart flavour. She then serves them with mutton, fish and potato curries and punchy Sri Lankan sambols. The chef has been testing the waters at a pop-up restaurant at Brickfields each Sunday night during July while she hunts down a more permanent site south of the CBD.
"Basically, Lankan Filling Station is going to be a hopper shop: Sri Lankan street food using the best ingredients we can find, but still doing that fast-in-fast-out style and in a modern setting."
At Sydney's Orange Grove Markets in Lilyfield, Ruvanie de Zoysa and former MasterChef Australia contestant Kumar Pereira's Hopper Kadé has locals queuing up each Saturday morning. While Hopper Kadé serve hoppers in the traditional way – with curries of lentil and vegetable mallung (stir-fry) and coconut sambal – it's their free-range bacon and egg version that has been inciting hopper fever.
"We've taken it one step further by introducing a caramelised bacon crumb and roasted chilli tomatoes, which adds a bit of heat," Pereira explains. "It's a reinvention of something that's both eastern and western."
The idea for Hopper Kadé was born when de Zoysa (who, like Pereira, has a Sri Lankan background) was on maternity leave.
"But I knew it couldn't be around my cooking because it would be a dismal failure," she tells. "And so I happened to be online – I didn't know anything about Kumar and his background in MasterChef – but I saw that he did Sri Lankan cooking. The stars all aligned and he rang me back immediately and said he had been thinking about doing something like this for a while and wanted to collaborate."
It's taken four years for Pereira to master his hopper batter, which uses a naturally fermented red rice flour and coconut water. It's a more fibrous, lower-GI take on the traditional version, and highlights one of Hopper Kadé's defining points.
"It's very hard to find food on the go that isn't empty calories, but I think the hopper lends itself beautifully to that," de Zoysa says. "One of our values is we don't like to use refined sugar where possible, and we use organic and seasonal produce as much as we can."
"When you become a mum, you suddenly become aware of having good, nutritious food for your kids. My two-year-old eats the bacon and egg hopper quite happily in the morning. And at least my conscience feels better."