ON APRIL 25TH AT 12.00PM (SL TIME) SRI LANKA FOUNDATION INTERNATIONAL, USA DONATED LARGE QUANTITIES OF URGENTLY NEEDED MEDICAL CONSUMABLES TO THE NATIONAL HEALTH HOSPITAL (NHSL) IN COLOMBO.

The following urgent items such as NG Tubes, Urine Catheters, ET Tubes, Spinal Needles, Sutures, Monofilament and Syringes were received by Prof Ishan De Zoysa & Prof Sanjeewa Seneviratne, Surgeons at the NHSL Hospital in Colombo.
OUR SINCERE GRATITUDE TO ALL THE DONORS!!!
SLF would like to thank the Capital City Rotary Club in Sri Lanka for assisting with the project.
Donation of medical consumables to ensure essential healthcare needs of children and adults in Sri Lanka we need your help!!!!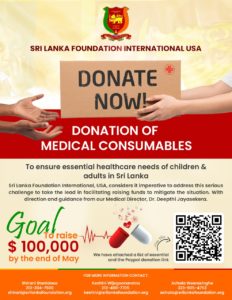 As you know, with the current economic crisis in Sri Lanka, the healthcare sector is also experiencing severe challenges with a shortage of drugs and consumables needed for the smooth functioning of healthcare facilities in the country. 
Sri Lanka Foundation International, USA, considers it imperative to address this serious challenge to take the lead in facilitating raising funds to mitigate the situation. With direction and guidance from our Medical Director, Dr. Deepthi Jayasekera, we aim to ensure that the health and wellbeing of the children and adults in our motherland will not be adversely compromised due to a shortage of drugs or consumables in the healthcare sector. 
We firmly believe that there are many people in our country and overseas who genuinely care for the welfare of the people of Sri Lanka. Therefore, we are appealing to your kindness and goodwill to help us in this endeavor. 
In response, we have initiated action to purchase essential items urgently needed from the local private pharmaceutical companies if such items are available. We have already identified a list of most urgent essential supplies, and depending on the size and the number of donations, we will proceed. 
Our goal is to raise $100,000 by the end of May 2022. Our Point of Contact in Sri Lanka is Prof. Ishan De Zoysa, Professor of Surgery, University of Colombo, and Secretary of Sri Lanka Medical Association in Sri Lanka.
We have attached a list of essential items that will soon be out of stock in Sri Lanka. We would be very grateful to you if you could consider our request and help us save lives. 
Thank you in advance for your kindness extended towards needy people in Sri Lanka. 
SRI LANKA FOUNDATION International, USA
See attached list:
urgent QUOTE SLFI

Please click on the link below to DONATE NOW!!
https://www.paypal.com/donate/?cmd=_s-xclick&hosted_button_id=KY287N6MD8ZJ8
If you wish to donate through the Zelle Account, see instructions below:
1) Log into your personal bank account
2)Click on Zelle
3)Click on "Recipient" in "send or receive money with Zelle field
4) Click on "Add new recipient"
5) Enter email address ingrid@srilankafoundation.org
6) Enter Business name:Sri Lanka Foundation
7) Click on " Add recipient"
8) Confirm contact info
9) Click on "Send Money"
10) Enter $ amount to send and click "Continue"
11) Click "Send"
For more information contact:
Shirani Stanislaus, Chief Operating Officer
213-304-7500 or shirani@srilankafoundation.org
Keshini Wijegoonaratna, Director of Project Management and Public Relations
213-400-7705 or keshini@srilankafoundation.org