The tear-shaped Indian Ocean island of Sri Lanka is a true culinary treat. Through years of colonisation and trade, many cultures have influenced its cuisine, creating a spice-filled fusion of Dutch, Portuguese, English, Malay, Indian and indigenous flavours to tantalise the taste buds. There's certainly no shortage of fish, seafood, vegetables and spices to turn into tempting curries. Coconut plays a key role in dishes, as well as arrack, the potent homegrown spirit distilled from the sap of coconut flowers. There's always thambili, or sweet king coconut water, for the morning after.
Here are 10 Sri Lankan foods you need to try on your trip to this beguiling isle.
1. Egg hoppers
Traditionally eaten at breakfast, the savoury, bowl-shaped Sri Lankan take on pancakes are delicious any time. They're made from a batter of fermented rice flour, coconut milk, coconut water and a sprinkling of sugar, that's cooked in a small, high-sided wok-like pan. An egg is broken into it while it cooks and it's served with a spicy sambol.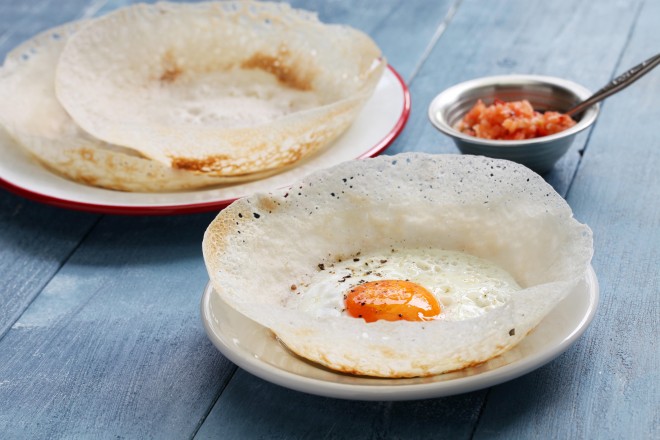 2. Sambol
The classic side dish, sambols are fresh and often fiery, chunky sauces, usually made with a stone pestle and mortar. Pol sambol is a mix of finely grated coconut, dried red chillies, red onion, lime juice and a dash of Maldive fish, or cured tuna.
Other perennial favourites include sweet-and-sour seeni sambol, made with caramelised onion, and sharp-and-spicy lunu miris, a flavoursome fusion of onions and red-hot chillies.
3. Vegetable curry
The archetypal Sri Lankan meal consists of a mini-banquet of fragrant seasonal curries, each one bursting with flavour. You'll spot the British influence in curries featuring potatoes, carrots and pumpkin, but more exotic varieties include meaty-textured young jackfruit, long okra-like drumsticks and bitter gourd, which resemble lumpy cucumbers. Always served with rice – white, brown or red – Sri Lankans prefer to eat it with their fingers.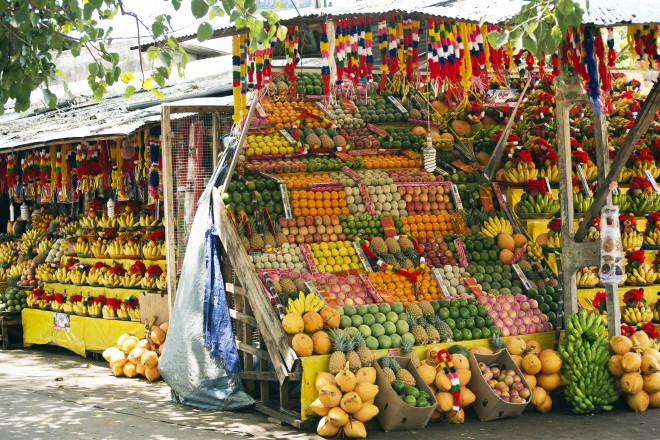 4. Gotu Kola Kanda
Part soup, part herbal porridge, this nutritious green concoction is Sri Lanka's age-old natural answer to a sugar-filled energy drink. Made from wild leafy greens – including medicinal herb gotu kola and hathawariya, part of the asparagus family – and rice, it's believed to have many health-giving properties, including aiding digestion, reducing cholesterol and boosting the immune system.
5. Crab
Seafood plays a major role in the country's diet, and Sri Lanka's lagoon crabs are justly famous the world over for their succulent sweet meat. Colombo's Ministry of Crab – which makes a regular appearance on Asia's best restaurant lists – celebrates this iconic crustacean. The catch-of-the-day comes in a range of sizes, from half a kilo to the whopping two-kilo Crabzilla, in time-honoured recipes, including chilli crab, pepper crab and curry crab.
6. Kottu roti
The go-to Sri Lankan street food is a delicious stir-fry made out of leftovers. With a rhythmic clatter, the kottu maker deftly wields two large metal cleavers, finely slicing roti flatbread together with meat or vegetables, garlic and spices on a large iron skillet. Another favourite roti is pol roti, made with shaved coconut. Eaten for breakfast, it's perfect with lunu miras and dhal.
7. Dhal
Dhal, or lentil curry, is a staple Sri Lankan side dish, often eaten two or three times a day. Red lentils are cooked in coconut milk, with onions, piquant green chillies and spices such as cinnamon, cumin, fenugreek and pandan leaves. Thinner than its Indian counterpart, with amped up spices, it's extra tasty when made in a traditional clay pot.
8. Lamprais
Unique to Sri Lanka, lamprais is a savoury delicacy passed down by the descendants of Dutch Burghers and often served for Sunday lunch. The authentic recipe is labour intensive, including frikkadels (Dutch-style meat balls), a three-meat curry infused with spices such as cinnamon and cardamom, and seeni sambol, all mixed with rice boiled in a spicy stock, before being wrapped in a banana leaf parcel and slowly oven baked.
9. Sour fish curry
There are plenty of fish curries but ambul thiyal, or sour fish curry, is one of the best. Cubes of firm fish, usually tuna, are cooked in a blend of spices, including turmeric, black pepper, cinnamon, garlic and curry leaves. The secret ingredient is dried goraka, a tamarind-like superfruit that gives the dish its sour flavour.
10. Watalappan
Watalappan is one of the country's most popular sweet treats, and is a must-have for special occasions. This Malay-influenced dessert is similar to egg custard, with the addition of coconut milk, cardamom, nutmeg and dark kithul jaggery, or palm sugar. Bubbles of air keep this rich dish from getting too heavy, and a sprinkling of chopped nuts on top adds a crunch to its otherwise silky texture.