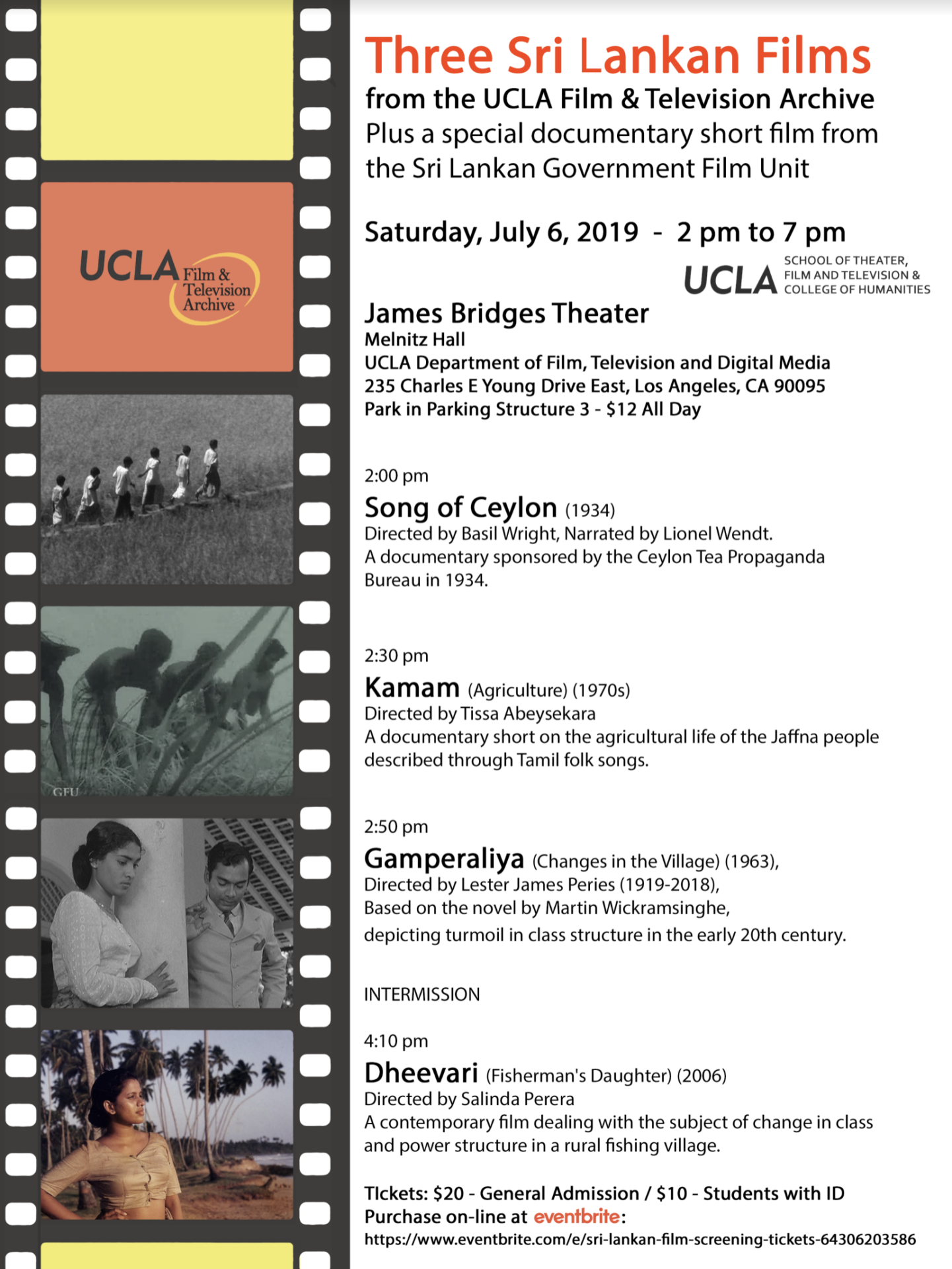 Date: Sunday, July 7th, 2019
Time: 2:00 PM - 7:00 PM
Location: James Bridges Theater
235 Charles E Young Drive East, Los Angeles, CA 90095, Los Angeles, CA
United States
Description:
Three Sri Lankan Films from the UCLA Film & Television Archive
Plus a special documentary short film from
the Sri Lankan Government Film Unit
Saturday, July 6, 2019 – 2 pm to 7 pm at the James Bridges Theater, Melnitz Hall, UCLA Department of Film, Television and Digital Media.
235 Charles E Young Drive East, Los Angeles, CA 90095
Park in Parking Structure 3 – $12 All Day
Sponsored by UCLA SCHOOL OF THEATER, FILM AND TELEVISION & THE COLLEGE OF HUMANITIES
Stefan Wanigatunga, Project Coordinator
2:00 pm Song of Ceylon (1934)
Directed by Basil Wright, Narrated by Lionel Wendt.
A documentary sponsored by the Ceylon Tea Propaganda
Bureau in 1934.
2:30 pm Kamam (Agriculture) (1970s)
Directed by Tissa Abeysekara
A documentary short on the agricultural life of the Jaffna people
described through Tamil folk songs.
2:50 pm Gamperaliya (Changes in the Village) (1963),
Directed by Lester James Peries (1919-2018),
Based on the novel by Martin Wickramsinghe,
depicting turmoil in class structure in the early 20th century.
INTERMISSION
4:10 pm Dheevari (Fisherman's Daughter) (2006)
Directed by Salinda Perera
A contemporary film dealing with the subject of change in class
and power structure in a rural fishing village.
TIckets: $20 – General Admission / $10 – Students with ID
Purchase on-line at Eventbrite:
https://www.eventbrite.com/e/sri-lankan-film-screening-tickets-64306203586
Plus a special documentary short film from
the Sri Lankan Government Film Unit