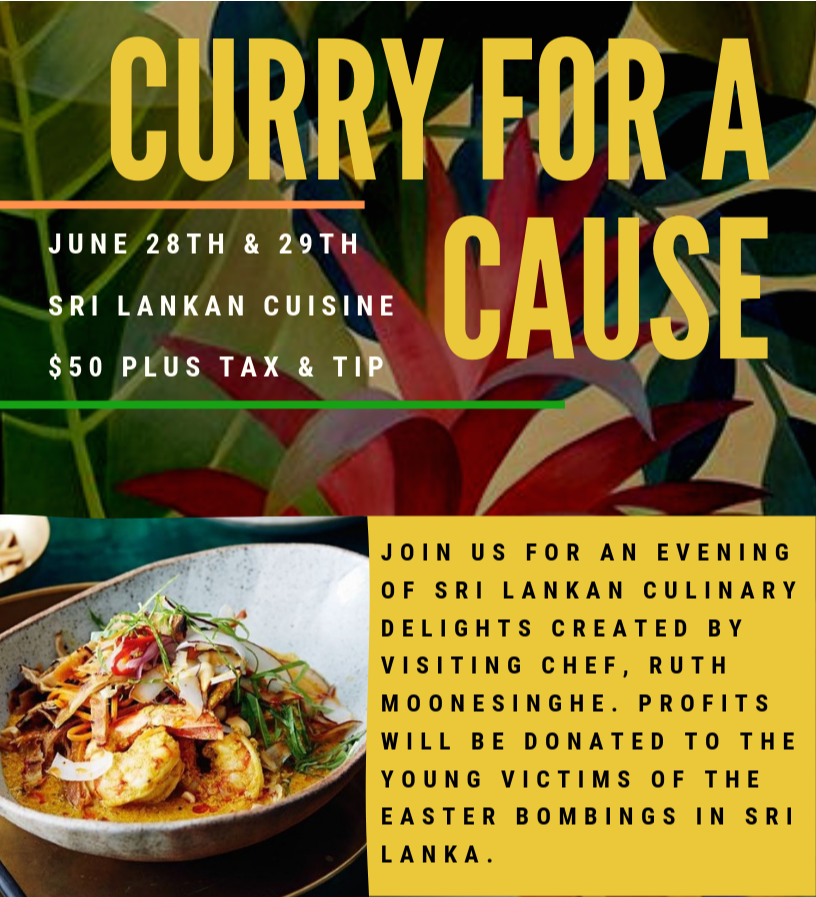 Date: Friday, June 28th, 2019 - Saturday, June 29th, 2019
Time: 9:00 AM - 5:00 PM
Location: Washington DC
Washington DC, Washington DC
United States
Description:
Click Here to get more information
Sri Lankan Pop Up
June 28th & 29th
$50 (plus tax and tip)
At the end of this month, we welcome back Ruth Moonesinghe to treat us to some tasty Sri Lankan dishes. Like the popup in 2015, we expect this to sell out quickly.
After witnessing the devastation caused by the Easter bombings, in Sri Lanka, Prequel co-owner Johann knew he wanted to do something to help raise funds and also remind people that wonderful, amazing food comes out of this island community.
If you haven't had Sri Lankan food before, it's been described as a cross between Indian and Thai flavors. Having spent the last 40 years in Southern California, Chef Ruth also has a heavy focus on creating dishes that are healthy and veggie-forward…and down-right delicious.
Click Here to get more information
MENU
Upon purchasing your ticket, you will be invited to choose a meat, pescatarian or vegetarian menu, featuring:
Amuse
Deviled Cashew nuts*
~
A variety of starters
Croquette (grass fed beef or vegetarian)
mixed with potato, onions, mint and serrano chili
Sri Lankan Roll (grass fed beef or veg: sweet potato, cabbage and leek)
spiced with fenugreek, cumin, cinnamon, cardamon, and cloves
wrapped in crepe, breaded and fried
Sri Lankan Taco (prawn or jackfruit*)
Curried with avocado, micro greens, and coconut sambal
~
Main Event
Choice of:
Salmon Belly Curry
Poached in a dark coconut milk curry made from roasted coriander seeds, cinamon, cardamom, cloves, turmeric, fennel, dill seed, with stir fried onion, tomato, mustard seeds, tropical garcinia, pandan leaf, and curry leaf
Kabocha Squash Curry *
Slow cooked in a coconut milk curry made from turmeric, roasted mustard seeds, fennel with stir fried red chilies, onion, tomato, pandan leaf, and curry leaf
Deviled Ribeye Beef
Stir fried with red onions, ginger, garlic, tomato paste, chili powder, yellow chilies, and leaks
All accompanied with:
Coconut spiced rice*
Yellow Lentils with Spinach*
Eggplant with dates, red onion, green chili and mustard*
Stir fried Broccoli with red onion and red chili flakes*
Pol Sambol (spicy coconut)
Papadam (lentil chips)*
~
Dessert
Vanilla Ice Cream with roasted cashew and treacle
~
*indicates 100% plant-based dish
Sri Lankan cuisine doesn't use butter or ghee so all savory items are dairy free